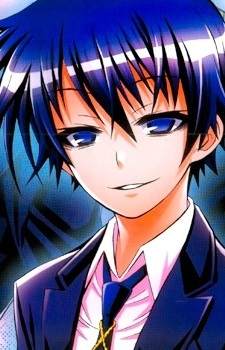 Japanese Name
球磨川禊
Romaji Name
Misogi Kumagawa
Nicknames
Born Loser, Naked Apron-senpai, Defective Product, Good Loser
Series
Medaka Box Abnormal
Age
17
Weight
N/A
Height
N/A
Date of Birth
N/A
Blood Type
AB
Academic Status
3rd year, class -13
Affiliation
Previously: Kumagawa's Student Council of Hakobune School,
Kumagawa's Student Council of Suisou Academy,
Kumagawa's Student Council of Hakoniwa Academy,
Medaka's Student Council,
Naked Apron Alliance and Tsurubami Team/All Jokers
Position
Previously: President, General Affairs Manager, Vice-President
Mentality
Minus
Abilities
All Fiction, Book Maker, Hundred Gauntlets, Unskilled
Personality
Misogi Kumagawa, also known as "Born Loser," "Naked Apron-senpai," "Defective Product," and "Good Loser," is a complex character with a unique and nihilistic personality. He believes that life has no meaning and that there is no reason for one's existence. Kumagawa has absorbed all the negative aspects of the people he has encountered, resulting in a pattern of failure and loss in everything he does. He has a compulsive lying nature and lacks trust or doubt in his interactions with others. Despite his negative outlook, Kumagawa always maintains a smiling and positive demeanor. He has a disregard for the lives of those around him and can easily take them without remorse. However, despite his negative personality, he does care about his comrades, as revealed by Medaka.
Background
Kumagawa's background is shrouded in mystery. He was previously a student at Hakobune School and Suisou Academy before transferring to Hakoniwa Academy. He held various positions in various student councils, including president, general manager, and vice president. Kumagawa's past is marked by his encounters with negative experiences and his inability to succeed in any endeavor. He has undergone tests for abnormalities, but was found to be normal.
Appearance
In appearance, Misogi Kumagawa is a young man with unkempt black hair and sharp, piercing eyes. He is often seen wearing the Hakoniwa Academy uniform, which consists of a white shirt, black blazer with a red tie, and black pants. Despite his somewhat disheveled appearance, Kumagawa's constant smile adds an enigmatic charm to his overall appearance.
Abilities
Kumagawa has several unique abilities that make him a formidable character. His primary ability is "All Fiction," which allows him to erase the existence of things, including both tangible and intangible entities. This power allows him to erase injuries, his own "aura," and even other people's abilities. Later in the series, Kumagawa trades "All Fiction" for his original Minus, "Book Maker". With Book Maker, he can turn his target into a Minus, as demonstrated in his fight against Medaka.
Origin
Misogi Kumagawa is a character from the manga series "Medaka Box" written by Nisio Isin and illustrated by Akira Akatsuki. He first appears as one of the main antagonists in the "Kumagawa Incident Arc" and later becomes one of the main characters in the series. Kumagawa's unique personality, complex backstory, and powerful abilities contribute to his significant role in the story and his interactions with other characters.
Misogi Kumagawa – FAQ

Who is Misogi Kumagawa?
Misogi Kumagawa is a character from the anime and manga series "Medaka Box Abnormal". He is the former student council president of Hakoniwa Academy and serves as one of the main antagonists in the series.
What are Misogi Kumagawa's abilities?
Misogi Kumagawa has a unique ability called "All Fiction". It allows him to negate and erase any kind of existence, be it physical objects, concepts, or even injuries. He can also create "Minus" abilities, which are negative versions of other people's powers.
What does Misogi Kumagawa do?
Misogi Kumagawa is known to be eccentric and unpredictable. He has a pessimistic outlook on life and often takes pleasure in causing chaos and despair. He enjoys manipulating others and tends to act impulsively. Despite his antagonistic nature, he is also shown to have a complex and troubled past.
What is Misogi Kumagawa's role in "Medaka Box Abnormal"?
In "Medaka Box Abnormal," Misogi Kumagawa serves as one of the main antagonists and acts as a major obstacle for the main characters. He challenges the protagonist, Medaka Kurokami, and her allies, constantly testing their resolve and pushing them to their limits.
Does Misogi Kumagawa have any redeeming qualities?
Despite his antagonistic nature, Misogi Kumagawa has some redeeming qualities. He is shown to be highly intelligent and has a deep understanding of human nature. He also shows moments of vulnerability and introspection, hinting at a more complex and troubled character beneath his chaotic exterior.
Is there any character development for Misogi Kumagawa?
Yes, Misogi Kumagawa undergoes significant character development throughout the series. As the story progresses, his motivations and past are explored, shedding light on the reasons behind his behavior. He experiences moments of growth and self-reflection that lead to a more nuanced understanding of his character.